1. Complete American Legion Membership application.
2. COPY OF DD214  DISCHARGE 
3. Membership Dues Payment. Dues. (Amount Shown on Application). Make checks payable to our Post listed above.
4. If the information is correct, membership will be approved and then a membership card will be mailed to you.
5. Please see eligibility dates below.
TRANSFERS
Veterans applying for transfers from your current Post to our Post must submit the following:
 a. Completed Member Data Form.
b. COPY OF DD214 OR DISCHARGE                                
  c. COPY OF MEMBERSHIP CARD
6. Membership dues payment, if current year dues are not paid. If current dues are paid, please pay dues for next year's membership.
ELIGIBILITY DATES
MEMBERSHIP ELIGIBILTY in the American Legion is based on honorable service with the U. S. Armed Forces between:
(April 6, 1917 -November 11, 1918) World War I
(December 7, 1941 – December 31, 1946) World War II
(June 25, 1950 – January 31, 1955) Korean War
(February 28, 1961 – May 7, 1975) Vietnam War
(August 24, 1982 – July 31,1984) Lebanon/Grenada
(December 20, 1989 – January 31, 1990) Operation Just Cause
(August 2, 1990 – Today)* Operation Desert Shield/Desert Storm
Because eligibility dates remain open, all members of the U.S. Armed Forces are eligible to join The American Legion at this time, until the date of the end of hostilities as determined by the government of the United States.
Must have served at least one day of active military duty during one of the dates below and honorably discharged or still serving honorably. :
For any questions please contact our membership chairman, or stop at the Post.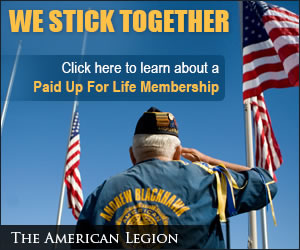 Contact Us
Mail Us or E-mail Us or Phone Us or Website Us Want information about our Post? Mail your questions to the above address. We will make every effort to respond to you as soon as possible. E-
mail Us:  insert your Post's e-mail address  here,   (postname@domainname) Telephone
Us with your inquiries.  Our Telephone Number is (978)251-4933
Our Post Web Site is:    http://awv.siterubix.com
Our Post welcomes your input. Forward your comments, opinions, ideas on how to improve our website. Send us your photos, notices of special events, your fundraisers and other items of interest that enhance the quality of life for the citizens of our community. Our Post, at it's sole discretion, will publish your contributions we feel are merited. Express yourself.   Become an active member of our community.
News From The Mass American Legion
Department Commander
Charles Towers
Need Help with a VA Claim?   Not getting the benefits you earned?
Contact the American Legion Service Officers for Assistance.
American Legion DSO
JFK Federal Building Room 1500D
Boston, MA 02203
(617) 303-5694
or
American Legion DSO
380 Westminster St Suite 204A
Providence. RI 02903
(401) 223-3685

2015 Membership Drive has begun lets get those renewal processed in a timely manner.
E-LegionnaireThe latest edition of E-Legionnaire is available for viewing or download  Click Here
Constitution and By Laws
The Constitution and by-laws of the American Legion, Dept. of Mass
are available for viewing or download in the "Resources > Forms & Pubs"
section or by clicking Here